Save money on your electricity bill and make a concrete contribution to the energy transition? It's possible, by installing photovoltaic panels! Our solutions are tailored to your situation, so you can immediately benefit from your roof's solar capital.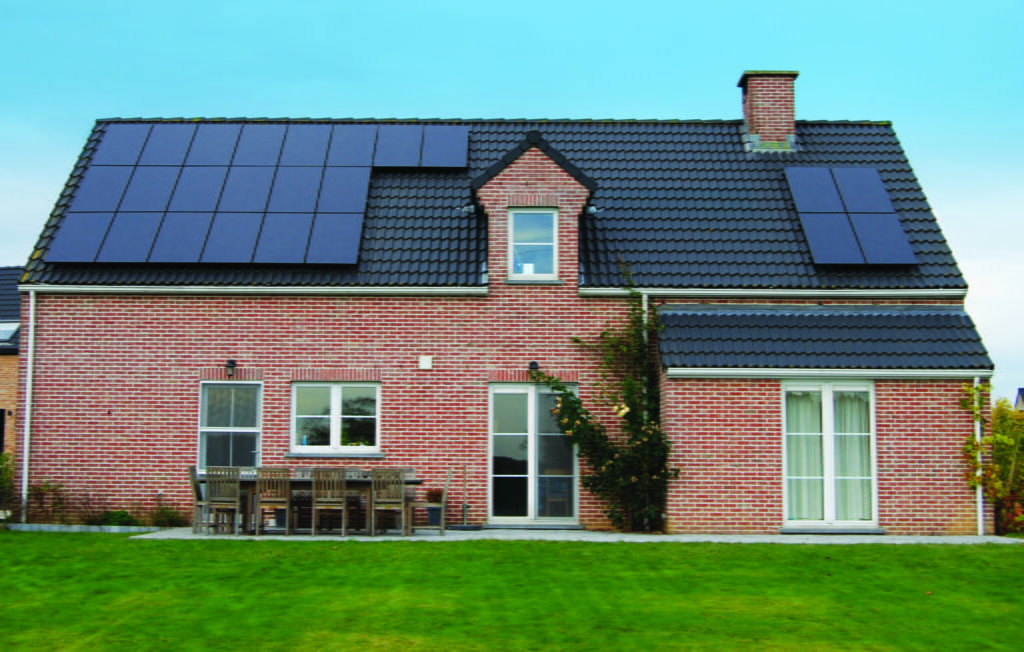 a
Your benefits
From the first year after your installation, you'll notice a reduction in your annual electricity bill.

06.

savings on my electricity bill

As soon as you install your solar panels, you'll notice a reduction in your electricity bill.

Today, photovoltaics is an affordable investment for all Belgian households. The price of panels has fallen sharply over time (divided by 6 in 10 years!). Today's banks are ready to finance photovoltaic projects thanks to their long-standing proven profitability.

07.

concrete participation in the energy transition

Given that the lifespan of an installation is between 25 and 30 years, that's as many years of carbon-free energy production. A real boost for the climate.

03.

longevity and reliability of my system

The

lifespan of an installation is between 25 and 30 years

.

08.

monitoring my live production

Whether you opt for a SMA or SolarEdge inverter system, you benefit from a tool for controlling and monitoring your installation. An application allows you to view the production of your panels in real time.

04.

possibility of adding a battery

Today's inverters are compatible with future battery installations.

09.

my property increases in value

With a lifespan of +/- 25 years, photovoltaic installations generate substantial savings that you or future buyers of your property can benefit from.

Another point is that the photovoltaic installation has a direct impact on the property's PEB rating, and should therefore increase its value.
a
Your installation in 7 steps
01

REQUEST A QUOTE

One of our experts will contact you to discuss the best solution for your needs and your home. At your request, we'll send you a detailed, no-obligation quotation for your future installation, free of charge.

02

YOU'VE MADE THE DECISION

You're ready to produce your own electricity and invest in photovoltaics! You return the signed quotation to us. We prepare your administrative file and your project can begin.

03

TECHNICAL VALIDATION

On payment of the first deposit (20%), we make an appointment with you to carry out a technical inspection. During this visit, all key points (roofing, electricity, building layout) are analyzed in detail to ensure optimal installation. Based on this information, we draw up the final layout diagram for your installation.

04

INSTALLATION

It's D-Day! After agreeing a date with you, our technical team will install your photovoltaic system. The project takes 1-2 days to install, depending on the size of your system.

05

ELECTRICAL RECEPTION

We commission and supervise the electrical acceptance of your installation by an approved inspection body (included in the quote). This is mandatory.

06

REGISTERING YOUR INSTALLATION

Once the acceptance document is in our hands, we prepare the administrative file for registration of your installation with your GDR (each region has its own Network Manager).

07

YOUR SYSTEM IS UP AND RUNNING

Now you can generate your own electricity!
Stage 04 in 5 points: from securing and preparing the site to electrical installation.
Your App
Keep control of your system at all times with your mobile monitoring application.
Track your production in real time
Get a global view of your production over the entire life of your plant
A production problem? Check your inverter's status information and detect if a problem exists
Your inverter is more than just an electronic component, it's the brain of your installation. It controls your photovoltaic panels in real time to produce maximum energy at all times. Thanks to your mobile app (delivered free of charge with your system), you can keep track of your system's production at all times.
Find out more from our partners:
7 reasons to choose Soltis
+ More than 15 years' experience
Already 6,500 home projects completed
Free, no-obligation identification of your needs by our experts
A Belgian SME on a human scale, with personal contact from A to Z
10-year warranty on the watertightness of your roof following panel installation
Expertise in selecting the best technical solutions
Complete management of administrative procedures
Do you have any questions?
other services
services for Individuals
Certifications